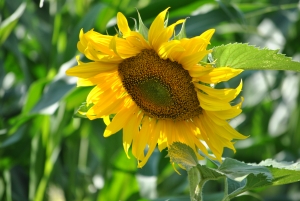 Yellow is bright, sunny and energizing. Here are the attributes of Spectro-Chrome yellow, according to "Let There Be Light" by Darius Dinshah:
Stimulates the motor nervous system which energizes the muscles. Nerve builder for sensory and motor systems.
Stimulates the lymphatic system. Mild tissue stimulant.
Stimulates the intestines, pancreas, and production of digestive fluids – bile, hydrochloric acid, etc, areas #6-7-8-9-10-18-19 (digestant, cholagogue).
Increases bowel movements, areas #9-10-18-10 (cathartic).
Spleen depressant; equilibrator in melancholia, balances areas #6-7 through the portal circulation
Expels worms and parasites (anthelmintic).